Certified Supply Chain Professional (CSCP)
Distinguish Yourself as a Supply Chain Expert
With the APICS Certified Supply Chain Professional (CSCP) program, you can
take your career and organization in a new and exciting direction. Shape your
future, align your goals, and distinguish yourself from the competition. In this
challenging global marketplace, only the most well-trained, well-educated
professionals will be sought after by employers and valued by organizations.
Join their ranks today by earning the APICS CSCP designation.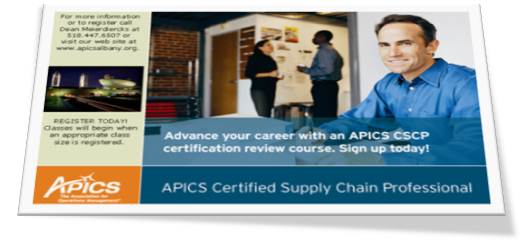 APICS CSCP Program Benefits
The APICS CSCP certification encompasses the entire global supply chain.
The APICS CSCP sets the standard for certification.
It is administered in 72 countries and preferred by leading companies worldwide.
Employers and recruiters seek APICS CSCP designees.
The APICS CSCP increases your professional value and secures your future.
By earning the APICS CSCP designation, you will demonstrate significant
commitment to your profession and your career, distinguish yourself as an
industry expert, and excel with your newly acquired specialized knowledge.
Enhanced for 2012
The APICS Certified Supply Chain Professional (CSCP) program is more relevant than
ever to the challenges and performance improvement opportunities faced by today's
supply chain professionals. The APICS CSCP Learning System modules were restructured with deeper integration of
best practices in the day-to-day functions of supply chain professionals
technologies that drive improvement in planning and operations.
Move Your Career Forward with the APICS CSCP
How You Benefit
The APICS CSCP program will give you more credibility and recognition in your workplace. You can distinguish yourself by committing to continued education that will help you sharpen your skills. This program gives you the opportunity to master supply chain management and all its facets—all on the cutting edge of new developments and concepts.
How Your Organization Benefits
From day one, you can apply your APICS CSCP program knowledge to solve everyday work issues. Your knowledge and expertise will make you more valuable in your organization. Companies that sponsor all or part of their employees' tuition will gain a return on investment in the form of long-term loyalty and more productive employees.
With APICS CSCP, your employees will have
the proven knowledge and organizational skills to strategically streamline operations
the tools to effectively manage global supply chain activities that involve suppliers, plants, distributors, and customers located around the world
the skills to create consistency and foster collaboration through best practices, common terminology, and corporatewide communication
an understanding of the valuable technologies that drive planning and management of successful operations.
APICS CSCP Can Help with ERP and CRM Implementation
Throughout the APICS CSCP Learning System, you will be exposed to the role enterprise-level software and technologies play in high-performing operations. With the APICS CSCP, you will understand implementation strategies for technologies including enterprise resources planning (ERP), customer relationship management (CRM), advanced planning
and scheduling (APS) systems, and more.
CSCP Body of Knowledge
APICS Fundamentals of Supply Chain Management

Broad concepts of supply chain management, including primary processes, objectives, integration methods and benefits
Alignment of supply chain and business strategies
Key considerations for supply chain design and continuous improvement
Key measures for planning and controlling inventories
Fundamentals of logistics in supply chain management
Identifying and managing market segments
Demand forecasting and management techniques
Keys to effective CRM
Core concepts of supply management

APICS Supply Chain Strategy, Design, and Compliance

Sustainability practices in design and operation of a supply chain
Risk, its sources, impacts, and mitigation methods
Globally dispersed supply and demand, and the impact of free trade zones and trading blocs
Globalization effects on inbound and outbound logistics
Measurement of, and efficiency and responsiveness in the supply chain
Technologies for design, data, operations and communications in supply chain management
Factors influencing demand, including design, marketing, selling, and matching customer orders
Core concepts of CRM, including strategies, technologies, and key implementation challenges
Fundamentals of supplier relationship management (SRM), including strategies, improved management of sources, relevant technologies and measurement
Inventory planning and control methods

APICS Implementation and Operations

Supply chain dynamics and the balance of responsiveness and efficiency
Managing supply from internal and external sources
Implementation of demand plans, including prioritization and fulfillment, and capturing and communicating point-of-sale data
Tools and techniques to support continuous improvement strategies
Click to download the 2012 APICS CSCP Brochure.
According to the Operations Management Employment Outlook, APICS CSCP designees, on average, earn 11 percent more than non-certified supply chain professionals. (Fourth quarter, 2010)
Course: Certified Supply Chain Professional (All Modules)
Dates/Time: Normally Thursdays 6-9PM (14-15 Sessions)
Where: Tingue, Brown & Co. - Clifton Park
Instructor: Todd Nadler, CFPIM, CSCP, CSSBB, APICS-Qualified Instructor
Cost: $2,000 (all materials included)
Minimum class size is 4 students. Test fees not included.
To pay by credit/debit card click here.
Please contact Todd Nadler @ (518) 265-8836 or tnadler@apicsalbany.org for information or to register for classes.
Note: Candidates must apply for eligibility in order to register for and take the APICS CSCP Exam. Click here for more information.