APICS Lean Enterprise Workshop
As more organizations decide to go lean, demand is escalating for a skilled team and system-wide approach for developing and implementing lean project plans. This course is designed to equip you with the broad knowledge and tools to map the transformation for developing a lean culture at your organization.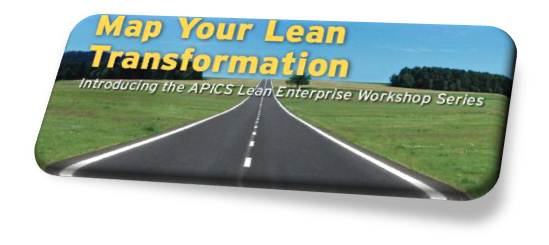 The APICS Lean Enterprise Workshop Series is organized to enable you to approach and understand the lean transformation process systematically. Using scenarios from a fictitious company, Murphy's Toys, you will be tasked with finding lean solutions to a myriad of challenges. This method will provide you with the flexibility to immediately customize what you've learned and implement it at your own organization.
There are seven workshops in the series:
Introduction
You will gain an overview of the many components of implementing a lean transformation in your organization and gauge your organization's readiness through a hands-on assessment.
Lean Culture
Explore the effects of a lean implementation on your employees and learn about the importance of teams. The Kaizen, a team-
oriented continuous improvement event will be introduced in this section.
Value Stream Mapping
Learn about value stream mapping and this tool's value for viewing processes and determining potential areas of
improvement. Draw a current state map and then learn about concepts to help you improve your future state.
Stability and Process Improvements
Learn how to improve process stability, achieve demand stability and improve manufacturing process efficiencies.
Just-in-Time
Determine customer demand, standard work, line balancing and many other tools to meet customer demand. Participants will
explore the use of a heijunka system to meet customer demand through a hands-on activity.
Measuring
Review the way a lean company measures and align measurements with objectives. Topics include lean accounting, inventory
costs, target costs and lead time.
Sustaining
Learn about the long-term changes to sustain the gains made. Topics include lean design, analyzing failures and ensuring
ongoing quality control and continuous improvement.
This 28-hour workshop is excellent both for individuals who want to learn about Lean and for companies in any industry looking for education in support of a Lean Transformation effort. It is a good mix between the theoretical, practical, and hands-on, as well as being highly interactive. Participants will receive a certificate of completion from the APICS Association, and the course counts as 28 points towards CPIM or CSCP recertification.
Because of the team exercises in the Lean Workshop, there is a minimum class size of four.
Dates/Time: TBA, depending upon interest
Where: TBA
Instructor: Todd Nadler, CFPIM, CSCP, CSSBB, APICS Lead Lean Enterprise Instructor*
Cost: $700 (all materials included)
In-house classes can be accomodated. In-house classes during business hours may be possible, depending on class size and other factors.
To pay by credit/debit card click here.
Please contact Todd Nadler @ (518) 265-8836 or tnadler@apicsalbany.org
Customized Lean Enterprise or Lean Six Sigma Education
We are also able to design tailored Lean Enterprise or Lean Six Sigma programs for general eduction, projects, or for full transformation efforts. Anyone interested should contact Todd Nadler (265-8836 or tnadler@apicsalbany.org).
* For more information on the APICS Instructor Development Program, click here.